Our online executive certificate delivers the toolkit to effectively lead teams in the post-Covid era.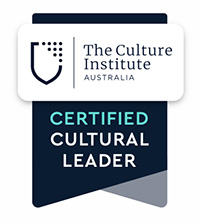 The Executive Certificate in Cultural Leadership provides executive leaders and HR professionals with essential tools and frameworks to effectively cultivate and nurture healthy, high performing teams in a post Covid world.
This 4-week online learning experience is being heralded as a must for all progressive leaders. Following a broad leadership study across some of the world's largest organisations, tech firms and start-ups, a team of social scientists, psychologists and business analysts developed The Executive Certificate in Culture Leadership.
This executive qualification provides boards, and executive teams with unprecedented confidence in their leader's people management skills and ability to shape culture at this critical time.
The course consists of theoretical modules, interviews with ASX100 leaders and a range of simulations to support practical placation of learning. A time commitment of 2- 3 hours a week is recommended.
Thought leaders from Harvard and Oxford universities have stated that the leaders of the future will need to be cultural experts. The recent, rapid changes in ways of working both locally and globally has created unprecedented organisational pressure to understand and lead people and teams in new more progressive and flexible ways.
The Executive Certificate in Cultural Leadership has been designed to help leaders effectively shape culture and satisfy ASX Corporate Governance Guidelines, ASIC and APRA culture governance requirements.
What culture is and means in the current era
How culture is formed and shaped
How to measure culture
How to create strong, culturally healthy teams
Cultural Leadership and new ways of working
Innovation culture and customer centricity
Cultural Leadership Self-Assessment
Cultural Leadership Development Planning
Interviews with leading ASX100 executives
Interviews with Emeritus Professors
Practical simulations and case studies
Post-program alumni engagement

The Institute of
Workplace Culture
www.cultureinstitute.com.au